Stock Market Challenge Invests in Youth
Author: JA Lincoln
Community Involvement
Published: Monday, 13 Dec 2021
---
Sharing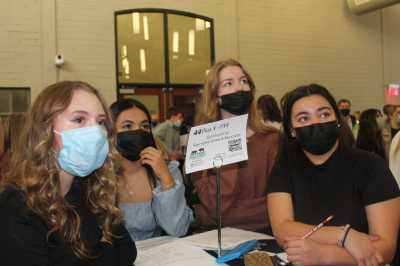 Image caption: Stock Market Challenge
It was a huge day of stock market action, right here in Lincoln!
Now in its 7th year, the Junior Achievement Stock Market Challenge allows Nebraska's high school students a chance to experience Wall Street trading. This year, nearly 1,000 high school students competed on November 30, 2021 to invest $1,000,000 in mock stock in 26 'companies,' vying for the title of Best Investors. The JA of Lincoln event is now the largest of its kind in the country! We had 977 students compete this year, with 350 students in person at Nebraska Innovation Campus and nearly 650 competing virtually from their schools all across Nebraska. 36 Nebraska high schools in total were represented!
Thank you to the amazing sponsors who made it possible for these students to get hands-on experience with Wall Street trading, and to the educators across the state who made it possible for their students to gain valuable real world experience in this unique competition! If you'd like more information on getting involved next year, contact Kaitlyn at kwinchell@jalincoln.org.
Of course, major "Best Investor" bragging rights were on the line! Congratulations to this year's big winners:
FIRST PLACE
Yutan High School / Clay Carlton
Team #2 ( Joey Benjamin, Carsyn Smith, Max Peterson, and Ethan Eggen)
SECOND PLACE
Lincoln Southeast High / Lindsay Tillinghast
Team #4 (Drew Ekstrum, Jack Prauner, Grayson Waller, Parker Horvath & Logan Martin)
THIRD PLACE
Ashland Greenwood / Amber Dutcher
Team H (Alex Marzouk, Justin Mills, Isaac Nonella, Garett Turner & Tony Bowdino)