JA Stock Market Challenge Coming Soon
Author: JA Lincoln
Community Involvement
Published: Monday, 01 Nov 2021
---
Sharing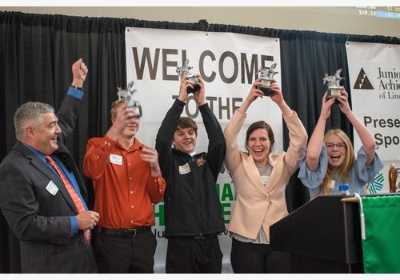 Image caption: The thrill of victory.
We're gearing up for the return of the JA of Lincoln Stock Market Challenge, and it's shaping up to be the biggest one yet. But we can't do it without YOU!
This year's event is scheduled for Tuesday, November 30. In order to make the event as accessible as possible to students, we're going to have in-person teams at Innovation Campus and teams participating virtually from their high schools, all competing together.
Last year, JA of Lincoln was proud to once again host the largest Junior Achievement Stock Market Challenge in the country, with nearly 700 students participating. This year, we already have more than 940 students registered! That's an increase of more than 30% in just one year, which speaks to just how much educators and students alike value this event and the lessons it provides. Plus, winners are competing for UNL scholarships!
Of course, it takes a lot of support to reach big goals. In order to keep the event totally free to students, we're looking for generous individuals and companies who will serve as sponsors. For $300, you make it possible for four students to experience this real-world learning opportunity. It's the kind of hands-on learning that stays with students for long after the event! To thank you for your investment in the students, you'll receive name recognition at the event and will be sent a photo of your team following the event. Will you be part of making this experience possible for Nebraska students? To become a team sponsor, contact Tera at tnorris@jalincoln.org.
We're so grateful to the sponsors who have already jumped on board to make this amazing day possible!
Presenting: CFA Society Nebraska
Technology Pittenger & Anderson
Trade: RBC Wealth Management
Portfolio: Raymond James
Opening Bell: KPMG
Closing Bell: UBS
Newsletter: Lincoln Industries
Education: Creighton School of Business
Quizmaster: Doane University - College of Business
Scholarship Sponsor: University of Nebraska-Lincoln
Gold Sponsor: Molex, Fiserv, Farmers Mutual of Nebraska, Capital one
Stock Symbol: Nelnet, Q2, Tasty Good Toffee, Firespring
Student Team Sponsors: Legacy Retirement Communities(3 teams), Black Hills Energy (2 teams), Union Bank and Trust, Sysco Lincoln, Security First Bank - Beatrice, RG Investments, Hughes Brothers, Wells Fargo Advisors, Assurity(2 teams), School District 145 Foundation for Education (7 teams), Ameritas, Midwest Bank, Cornerstone Bank, Pinnacle Bank, West Gate Bank, NBC Bank, Bryan Health, REAMS, FNBO, Bison, Humanex, Flagstone Financial Management, Security First Bank(3 teams)
Thank you to everyone who is making this unique and exciting event possible for the students of Nebraska!