JA Spark - A Big Nudge Toward Success
Author: JA Lincoln
Entrepreneurship
Published: Monday, 01 Nov 2021
---
Sharing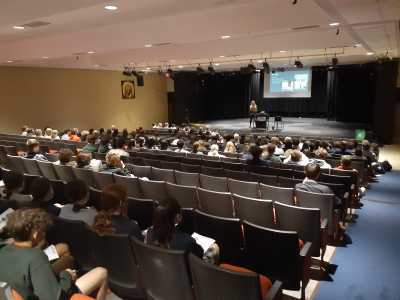 Image caption: JA Spark
JA Spark is a one-day workshop for high school students who have a passion for business and entrepreneurship, and this year's event gave them a big nudge on their road to success.
In one jam-packed day, students learned about the skills needed to start and grow a thriving business by working with other motivated students and hearing from successful local entrepreneurs. Those entrepreneurs worked with them as they created business plans of their own, and at the end of the day the students had the chance to pitch their businesses to a panel of expert judges. That's a lot to accomplish in one day, but these amazing students made it happen. We think it's an experience they'll carry with them for a long time!
This year, 130 students from Pius X, Adams Central, LPS Career Academy and Waverly High participated in this unique experience, learning from four speakers about their paths as entrepreneurs. They've all experienced great successes as well as challenges, and had a wealth of valuable lessons to share with the students.
The four featured speakers this year have all taken ideas they were passionate about and turned them into successful businesses. Hayley Reed, owner and founder of h.flynn designs, started out by making a few sweatshirts in her textiles and design class at Pius X High School. Natalie Micale, CEO and owner of Oh Hello Agency, is a passionate storyteller who has also served as Director of Biz Dev at Evol Empire Creative. Harrison Martindale, Educational and Finance Lead at Bumper, is a junior at the University of Nebraska Omaha, where he started working with several friends to build a platform for teens to begin investing. Brent Comstock is CEO and founder of Bcom Solutions, a nationally-recognized company that he founded at the age of 12. Since that time, Brent has served as the senior digital adviser for local, state, and national political campaigns, and billion-dollar fundraising initiatives.
We can't wait to see what the impressive students who attended the event accomplish in the future. Here's to our young people turning the spark into a flame!