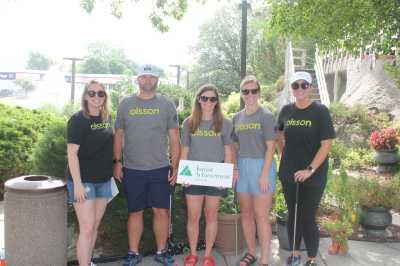 Image caption: Awesome Volunteers!
On Friday, August 20, more than 150 JA volunteers came out for an evening of mini golf at Adventure Golf! This fun outing was our way of saying THANK YOU to the wonderful volunteers who make our mission possible and take the JA message into classrooms every day and celebrate the start of another school year of making an impact. It was also a chance for volunteers to help friends and co-workers to learn about the JA mission and get involved.
Thank you to the sponsors who made it possible for the volunteers and their guests to participate for free, resulting in lots of new classroom signups and new volunteers getting excited about serving students!
Presenting Sponsor: West Gate Bank
Lunch Sponsor: Ayars & Ayars
Beverage Sponsors: LinPepCo and Chesterman Coca Cola
Cookies provided by Goodcents
We also want to congratulate and thank our prize winners, who each signed up for a JA class this school year and were drawn at the event.
$10 Runza gift card:

Kristen Reimers, RE/MAX

$10 U-Stop gift certificate:

Casey Gieseking, KPMG LLP

$10 U-Stop gift certificate:

Chris Livingston, Bison, Inc.

Pair of movie tickets:

Lacey Stewart, UNICO Group

Junior Achievement hoodie:

Divya Katakam, Ameritas

Husker fan package from Scheels:

David Borcherding, SCC

Husker football tickets:

Lori Martin, TMCO, Inc.

Husker football tickets:

Mike James, Bosch

Husker football tickets:

Sydney Hall, Assurity

Husker football tickets:

Sam Dolezal, Union Bank & Trust
Of course, there's still plenty of time to get involved in JA of Lincoln this school year as a classroom volunteer! Classroom volunteers make the JA mission possible and make a real impact on local students, all with a time commitment of just 5 hours that is arranged around your schedule! To learn more or sign up, visit bit.ly/JALNKEngage
Thank you, JA of Lincoln volunteers!