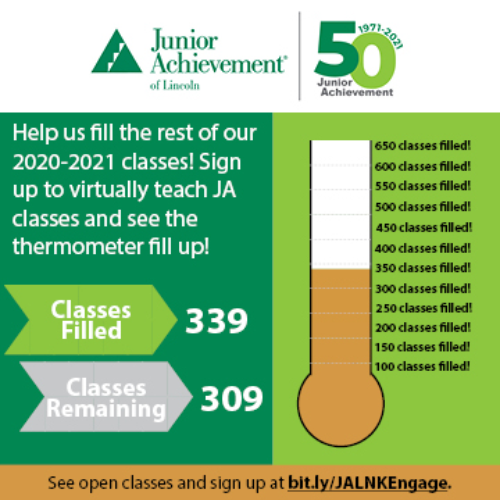 Be a Virtual Volunteer with Junior Achievement!
Volunteering for Junior Achievement may look different right now, but this past year has taught many of us the value of being flexible and trying new things. JA Volunteers are still needed in classrooms across the city. The silver lining of volunteers not being allowed into classrooms in person is that being a JA volunteer has never been easier or more convenient! This year, JA volunteers are using Zoom to connect with the classroom of their choice to lead three 15 minute lessons. As always, training and lesson plans are provided. YOU can impact a classroom full of students from your office or your couch!
What you can expect as a JA Virtual Volunteer:
» Training guides and short videos are provided
» Lesson plans and digital materials are created for you
» Classroom teacher helps facilitate technology in lessons
» Your time commitment is three 15-minute Zoom sessions with a local classroom of your choice (that's it!)
There is a classroom of students waiting for you!
If you're interested in shadowing a class to see what it's all about, or if you have
questions, please contact Rachel Murray at 402.467.1741 or rmurray@jalincoln.org.
Sign Up to Volunteer!